Ideas And Help
The greatest thing about National Youth Arts Week is that you're not alone!  We're here to support you every step of the way.  Below are some tools and ideas you may find handy when you're working on your National Youth Arts Week event.
Youth Arts Toolkit
Excited to be planning an event but need help figuring out what to do?  Click on the links below to download our Youth Arts Toolkit, including step by step instructions for how to execute specific youth arts projects in your community, as well as other useful resources to help get things off the ground.  
Need some more inspiration?  Check out some examples of events that have happened recently in Canadian communities.  We also have a list of additional project ideas, including events that could be held simultaneously across the country for National Youth Arts Week.  Once you've got an event in mind, register it.  If you have an event idea that you think would be helpful for others, email us about it and we will share it here.
If there's something you need guidance on, but don't see here, get in touch.
How to Get Started
Youth Arts Toolkit: Toolkit Intro
Youth Arts Toolkit: How to create a Youth Arts Collective
Volunteer and Consent Forms
Youth Arts Toolkit: Sample Volunteer Application Form (doc)
Youth Arts Toolkit: Sample Consent to be Photographed Form (docx)
Youth Arts Toolkit: Sample Donation Request Form (docx)
Activity Promotion
Youth Arts Toolkit: Sample Press Release (doc)
Youth Arts Toolkit: How to Promote Your Event
Youth Arts Toolkit: How to Effectively Use Social Media to Promote Your Event
Sample Poster (with all sponsor logos) (docx)
Project Ideas
Youth Arts Toolkit: How to set-up Artistic Storefronts
Youth Arts Toolkit: How to plan a 24 Hour Art Athon
Youth Arts Toolkit: How to create a UTH INK Project
Youth Arts Toolkit: How to create a Leaf A Message Project
Youth Arts Toolkit: How to create a Spoken Word Poetry Slam
Youth Arts Toolkit: How to create a Sense of Place Mural
Youth Arts Toolkit: How run a Music Monday event
Youth Arts Toolkit: How to Join in the 1000 Acts of Art Youth Challenge
Youth Arts Toolkit: How to run a Dance Flashmob
Examples of Youth Arts Projects
24 hour Art-Athon
This past August, a group of nearly 30 artists came together at the Brantford Arts Block and committed twenty-four hours to explore the effect that sleep deprivation has on creativity. Starting first thing on a Friday morning, art makers worked relentlessly all through the day and night to early Saturday morning, creating unique, finished pieces of art. Art supplies and food were provided, while the creative energy was supplied by the artists, which were split into drawers, crafters, sculptors and performers.
The drawers worked together using pencils, crayons, markers, paint and collage paper to complete a large-scale piece mounted on a 20' x 9' wall, which was later auctioned off for $10 per square foot. The crafters worked on an array of projects from knitting to origami. The theatre group conceptualized, wrote, directed and rehearsed a complete theatre production. Finally, the sculptors worked with a local community artist on a huge aluminum piece of art.
In addition to being a talent showcase for the community, the event was also a fundraiser, with creative money-making activities raising funds for the Brantford Arts Block. For example, for $20 spectators could add a line they wanted incorporated into the play.
Everyone spent Saturday recuperating but then returned that night for the reveal party. A band played, the theatre production was performed and the newly created pieces of art and craft were auctioned off.
Photovoice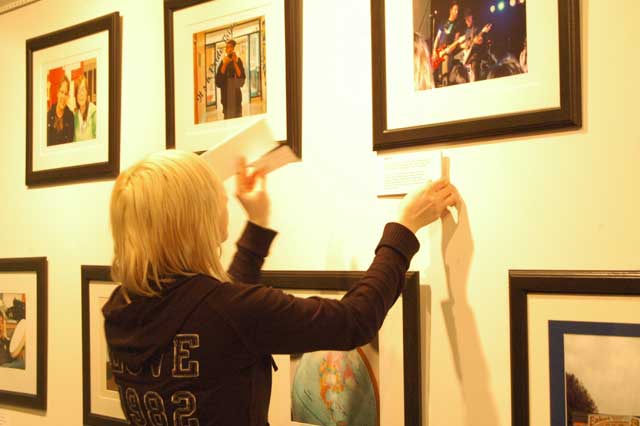 In April 2011, a group of 30 students in Blind River took part in a Photovoice project. Over the course of 4 weeks, the group took photos that identified the strengths and barriers they experience living in remote rural communities. The photos they collected highlighted what they identified as the most pressing issues facing their communities, ranging from pollution to youth out-migration and cross-cultural friendships.
During the project, participants received training in photography and curatorial skills, obtained donations from organizations and planned and organized every aspect of a public exhibition of their photos. The exhibition ran for two weeks at the local art gallery, then toured various community events throughout the summer.The photographs were exhibited again in October 2011 at the Harbourfront Centre in Toronto during the Creative Communities for Children and Youth Symposium. Since then, the youth have been invited to present their messages to their local town council and are currently working with decision makers in the community to bring about positive social change through arts programming.
To see the photos and for more information about this project, visit www.changes-perspectives.blogspot.com.
Sense of place mural 
In April 2011, Montreal graffiti artist and hip hop musician Dawiyd "Monk.e" Yisrael visited Huntsville, Ontario to lead Grade 11 English students in the development and creation of a large mural. The project was coordinated by Kaleidoscope, a project of the Muskoka Lakes Music Festival which organizes arts in education programming in area schools. Students were involved in brainstorming and planning the mural, as well as in painting it and deciding on its final placement. Students also wrote press releases, kept journals, created blogs, took videos and photos, created PowerPoint presentations, did drawings, and wrote poetry and lyrics. The students, along with Dawiyd, presented the mural project at the Muskoka Chautauqua Signature Weekend in June.
For more information about the event and to view videos and photos, visit http://www.kaleidoscopeartsined.ca/projects/huaetc-graffiti-mural-project.htm
Simultaneous National Youth Arts Week Events
Flash Mobs
These can be done with dancing, singing, orchestras, you name it!  Currently planned for Sault Ste. Marie ON and Halifax NS.
Launch Parties
Start off National Youth Arts Week in style with a huge party featuring youth performers and artists!   Currently planned for Vancouver BC, Summerside PEI, Sault Ste. Marie ON.
National Youth Arts Week Project Ideas
Have people in your community that represent groups who are frequently stereotyped act as living books that people can 'read' by asking them questions about their viewpoints and perspectives.   This project can create a rare dialogue and enable more understanding between individuals.
Intergenerational storytelling
Invite youth to interview elders in your community on a range of topics: traditions, culture, community evolution, childhood memories.  If you have access to videography equipment for this, share the stories at a public film screening!
Lantern Boats
Research how to make biodegradable, papier-mâché lanterns (or recruit someone who already knows how).  Have schools and community groups come together to create hundreds of lanterns containing secret messages, then at dusk send them all afloat on a nearby river or lake.
Mural "Free Wall"
Ask a local hardware store to donate a large piece of wood, or ask town leaders to donate a wall in the community.  Welcome youth artists to fill the space with their designs.
Open Mic Night
Gather together local youth performers – musicians, poets, spoken word artists.  Plan an event in a public venue or restaurant and invite the public to watch them do their thing!
Youth Arts Parade
Have a professional artist hold workshops about puppet-making, puppetry, mask-making and stilt-walking, then hold a community parade full of spectacle and music featuring your creations!