Remix The Logo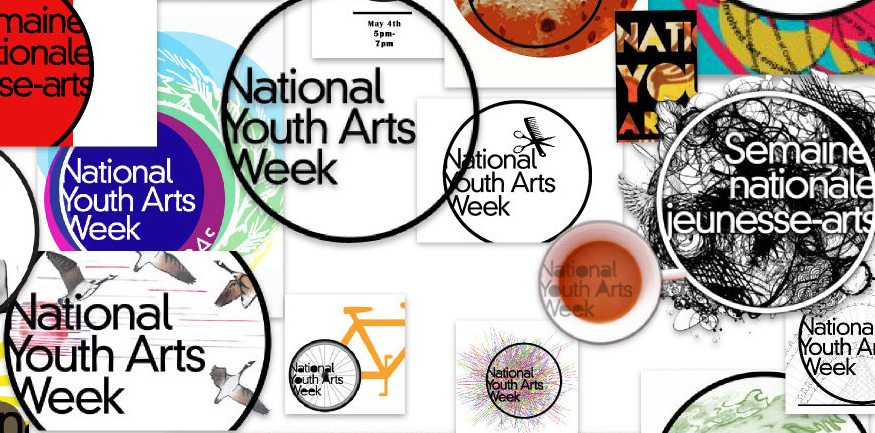 Remix our logo! Download the template, jazz it up and use it to promote your own NYAW event! You can sell or give-away t-shirts, posters, buttons or use it on your website to make noise for NYAW. Share your remixed logos on our Tumblr site for Canada to see, and we'll feature them!
Remix the Logo and Feature Your Event!
Last year, we had several youth from across Canada remix our logo to best suit their province, city, town, region, unique art event, or just as a form of creative expression in celebration of NYAW. 
Whether or not you are throwing an event for NYAW, you are most welcome to join the community and contribute your creativity! It's easy! Just...
1) Download our logo template files via the icons below (your choice of .PDF, .JPG, Photoshop .PSD or Illustrator .AI file)
2) Print or open the downloaded file
3) Make it yours! See examples below...
4) Once you are happy with it, upload it to our Tumblr account here, 
5) If you're really happy with it, submit it to info@youthartsweek.com, and we may use it in some of our promotional material!
6) Feel free to use your unique, artistic logo in your own promotional material for the National Youth Arts Week event you may be throwing. For example:
screen-printed t-shirts
buttons
posters
use in videos
feature on your blog
Remember - the whole point of NYAW is to remind everyone that you, the youth, can take charge of your own artistry and construct or contribute to the creative community that you want to exist in your region. Someone in your community can harness the ability to make things happen - why not let it be you? 
Download, remix, and share the NYAW logo to connect with youth across Canada to celebrate this initiative! 
 
Remember - keep us posted on your unique logo designs by uploading them to our Tumblr account, for everyone to see!